Dubai. United Arab Emirates
(Multiple Lines)
Office hours: Sunday-Thursday from 09:00 to 17:30
COMPANIES | RESIDENCY VISAS | BANK ACCOUNTS AUDIT | CORPORATE SERVICES | BUSINESS SET UP
Burj Al Arab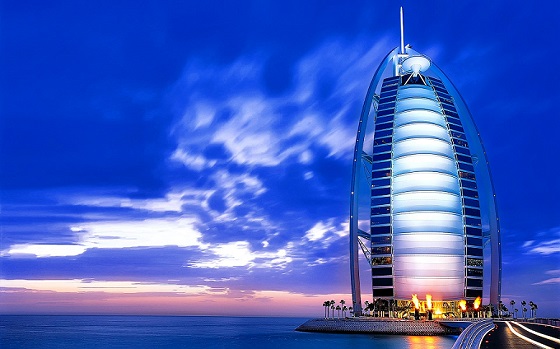 Burj Al Arab is a combination of luxury and prestige that creates special reputation of this hotel, which attracts those people, who value high-level special service. In addition, visitors can enjoy extraordinary dishes at Al Mahara restaurant, which is named as one of the top 10 restaurants in the world. The restaurant is located in the loggia at 200 meters above the Persian Gulf, opening remarkable view of the coastline of Dubai for its visitors.

Burj Al Arab was ranked as a unique 7 stars hotel according to "World Travel Awards" and won the prize of best hotel in the world in 2006. The hotel has spa and wellness facilities with world-class services. Exclusively for guests of the hotel, Rolls Royce Chauffeured Shopping and helicopter tours are always available.
Burj Al Arab - as a symbol of economic growth
The legendary hotel complex Burj Al Arab Jumeirah is not only a unique architectural and engineering landmark of the modern metropolis, it is a symbol of rapid economic growth and the business card of Dubai.
Probably there is not a man who has not been fascinated by the magnificence of structure of the complex designed in the shape of a sail. Yet one can fully experience splendor and luxury only when staying in the hotel. Burj Al Arab guests have an opportunity to assess truly exclusive and awesome rest.
The hotel Burj Al Arab has reputation of one of the most luxurious complexes, offering unique services and high privileges. It is known for its luxury suites, highly skilled staff and oriental hospitality.
Hotel features and benefits for guests

Burj Al Arab hotel is located in the southern part of Dubai and was built on an artificial island formation 280 meters from the shoreline. The height of the hotel is 321 meters, it includes 56 floors of hotel space. Burj Al Arab is part of a complex of Jumeirah International.
The following services are available for the hotel guests:
24 hour assistance desk and customer support;
Modern and properly equipped business centers and meeting rooms;
Hairdressing, beauty salons and shops;
Health centers, swimming pools, Jacuzzis and saunas;
Children's club, babysitting and laundry services;
A wide range of water sports and free access to the water park WILD WADI;
Equipped private beaches and free shuttle service to the city shopping centers.
If you choose Burj Al Arab hotel, you will be able to enjoy benefits and privileges of a truly exclusive stay. Endeavour new opportunities and experience excitement of luxurious environment.