Dubai. United Arab Emirates
(Multiple Lines)
Office hours: Sunday-Thursday from 09:00 to 17:30
COMPANIES | RESIDENCY VISAS | BANK ACCOUNTS AUDIT | CORPORATE SERVICES | BUSINESS SET UP
Dubai Marina area in UAE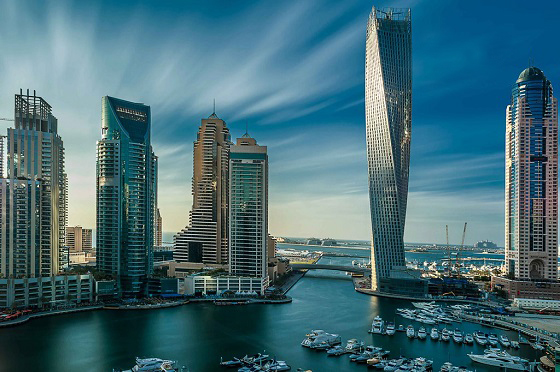 Dubai Marina is called "Manhattan" of Dubai. It is one of the most prestigious places to live and rest in Dubai. The total number of buildings is 200. Dubai Marina is 3.4 km long. The length of walkway running around Marina restaurants, shops and other facilities is 11 km.

Marina Mall, Marina Hotel and Marina Gourmet Tower (a six-story restaurant tower) are located in the central part of Dubai Marina. 5 star hotels such as Royal Meridian, Ritz, Grosvenor and others are situated along the coast line of Dubai Marina. Other world-known hotels, such as Radisson, Marina Mall Hotel, Tamani, etc. are placed in the heart of Dubai Marina.

Dubai Marina is a prestigious residential area of Dubai close to the sea and set aside from the city noise for comfortable life for you and your family, where you can have almost all services without going anywhere else.
Ambitious project – as a key area of ​​modern Dubai
The name of the district linked with the word "sea" and this constitutes its main purpose. In fact, it is artificial harbor created by designers as the world's largest marina. This is another project that captures imagination of many tourists and visitors to the United Arab Emirates.
In addition to fashionable marina, modern skyscrapers are built here, which stem directly into the sky. In addition, each building is unique and has first-class infrastructure.
Dubai Marina – area of grandiose skyscrapers
Dubai Marina is deservedly regarded as the most popular place in Dubai among foreign tourists and guests. Majestic skyscrapers adorn the entire coast of artificial bay. This is a complex project stretching over four kilometers - from the hotel complex Sheraton Jumeirah to Dubai International marine club.
It should be noted that this man-made structure in the Emirates can be seen from outer space and is the real pride of the Arab people.
Today the Dubai Marina project is almost completed, and the total population in the area exceeds 100 thousand inhabitants. Here you can find new shopping malls, great restaurants, cafes and walking areas.  
The architecture of the area reflects rich cultural heritage of the Arab people and loyalty to centuries-old traditions. At the same time, Dubai Marina claims to be the most modern area of ​​the city of Dubai. Among many visitors and residents you can meet representatives of almost all cultures, nationalities and religions, that does not prevent them to live peacefully and prosper in harmony.
A popular place for recreation and walks in the UAE
In recent years the area has become popular among fans of romantic walks and comfortable coastal holiday. At the end of working day and at the weekend, the coast comes to life and attracts visitors to a variety of structures. Maximum comfort, grandiose buildings, skyscrapers, the beauty of coastal landscapes and cultural attractions surprise guests and deliver a lot of positive emotions.
Each guest will find a place in this area that deserves his attention and admiration. Besides construction of new buildings and skyscrapers is actively pursued. We should also mention the night view of Dubai Marina - a spectacular light illumination against the background of dynamic silhouettes of modern skyscrapers.
To get acquainted with the splendor of the area, just have a stroll along the coastline and streets. Footpaths, ideal for romantic walks under the moon or sports jogging stretched along the artificial sea pier for several kilometers.
Trendy nightclubs, luxurious restaurants and shopping centers add to life special flavor and festive atmosphere both day and night. Guests have an opportunity to visit ​​traditional Arab markets or enjoy boat trips on the yacht.
Dubai Marina is practically a separate town in the middle of a large bustling city. This is an incredible man-made bay, which you must see with your own eyes. Dubai Marina in the UAE is an idyll of the metropolis, which is waiting for you and ready to deliver unforgettable experience.