Dubai. United Arab Emirates
(Multiple Lines)
Office hours: Sunday-Thursday from 09:00 to 17:30
COMPANIES | RESIDENCY VISAS | BANK ACCOUNTS AUDIT | CORPORATE SERVICES | BUSINESS SET UP
Atlantis, The Palm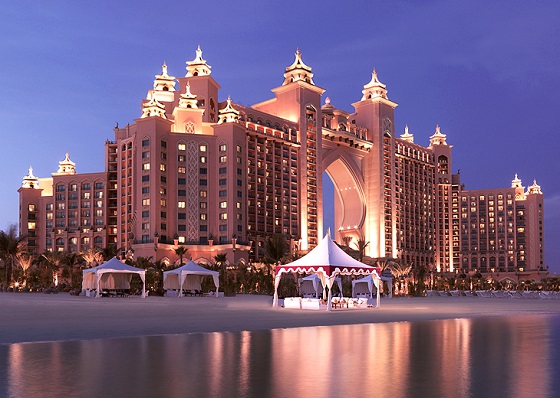 Atlantis, The Palm - is ambitious resort with extraordinary view on the city and entire Persian Gulf, built on the Jumeirah Palm. The hotel is placed on 46 hectares, which is equal to 64 Wembley stadium football fields.

On top of that, the Atlantis hotel has 1539 apartments of various classes of rooms, ranging from "Deluxe" to so-called "Bridge Super Suit". Having booked a "Bridge Super Suit" with area of 924 square meters, worth USD 35.000, - per day, you can enjoy not only high-quality service of premium class hotel, but also magnificent views of Dubai and the Arabian Gulf.
Atlantis - iconic hotel that deserves special attention
First of all, it should be noted that this is a five star hotel complex located on an artificial island formation Palm in Dubai. This structure may capture the attention of the most seasoned travelers and guests. Here the most daring engineering ideas and incredible scale have been realized.
Visitors to the hotel will be able to plunge into the world of imagination and amazing fabulous scenery. Hotel Atlantis is ready to offer you a lot of fun, exciting activities and luxurious surroundings. This is the best place for a beach holiday and marine entertainment in the UAE, ranging from relaxing sunbathing on the beach to the thrill of various types of water sports.
The unique architecture of the hotel, exciting water rides and comfortable guest rooms will make your stay memorable.
Features of Atlantis
Fans of original and luxurious vacation can experience full spectrum of indescribable feelings. For example, luxury suites, where the walls are aquariums, opening to guests amazing seascapes. Visitors of the aquarium can see more than 60 thousands species of mysterious underwater world.
Scuba diving, swimming with dolphins and sea predators such as sharks, will prove to be exciting and thrilling.
Beach lovers in the UAE will find here everything for comfortable and safe vacation. White beaches sky-blue waters, marine clubs and numerous musical events will constitute wonderful addition to the holidays. Young people can enjoy modern nightclubs and discos.
Special attention is given to the cuisine of Atlantis. Numerous restaurants are ready to offer you culinary delights and dishes from different cuisines. All catering facilities in the hotel have international awards, the best international reputation and meet the highest standards.
Modern SPA salons and beauty centers will help to relax and rejuvenate after active holiday. A wide range of treatments to facilitate recovery and rejuvenation are at your disposal. Shoppers can visit boutiques and souvenir shops.
Atlantis Hotel in Dubai - the best place for a family holiday
If you plan to take children for a holiday, you will not regret if you choose this place. No doubt - your children will appreciate all the benefits and advantages of the hotel. Playgrounds, babysitting services, pools for kids with giant toys and children water attractions, special clubs for teen age category, discounts for young visitors in restaurants and much more to turn a family vacation into a real celebration.
Facilities for computer games, educational and entertainment programs, artistic and research activities will make holiday for your children much more interesting and fascinating. Your children can also try rocket climbing and caring for marine species.
The name of the hotel, as well as the original layout and quirky architecture is closely linked to the exciting theme of the vanished Atlantis. This attracts and excites imagination of children even more. You may be assured that your children will be impressed by the splendor of Atlantis in the Emirates and mysterious landscapes of its underwater kingdom.