Alliance Business Advisors - Experts in Business Setup in Dubai and UAE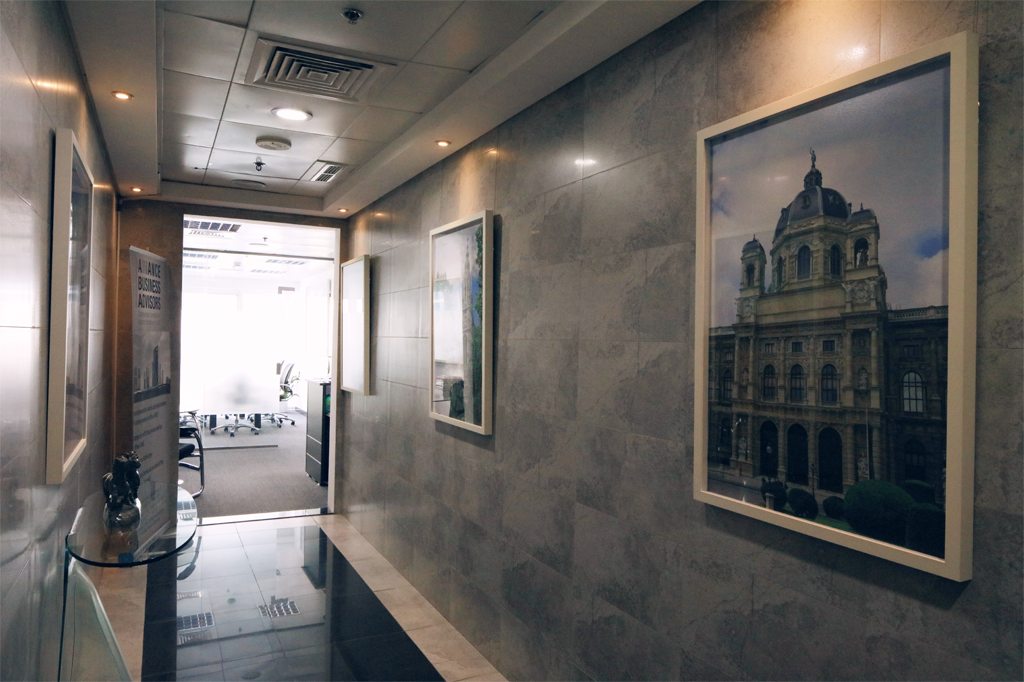 When setting up a company in Dubai, you have to deal with several organizational issues such as: choosing the best jurisdiction, collecting and submitting documents, getting residential visas, opening bank accounts, etc. Our main task is to help you to save your time, money, and efforts, solving all these problems. Our consultants are experts in matters related to business setup and its administration in the UAE. We specialize in providing professional consulting services both for corporate and private clients.
Why do I need business setup consultants in Dubai?
Best choice for your business. There are almost 50 free zones located in all the Emirates and mainland beyond these areas. And every territory has some specific features and limitations. It is crucial to choose the right place for company registration at the very beginning since this, in the long run, defines the prospects for growth and development of your business. We will help you make the right choice for business setup in Dubai.
Cost- and time-effective solutions. If you prefer to go through the whole business registration process by yourself, you should be prepared for possible faults, delays, and be ready to spend more money, time, and efforts. It is much easier to go to your goal if you know the way. Our business setup consultants know how is the guarantee for the best and most efficient way in Dubai and other emirates of the UAE!
Requirements of local laws. In some cases, the support of local authorized registration agents is obligatory. For example, when registering an offshore company in the UAE, you must have such an agent who will deal with the free zone authorities on your behalf.
What business solutions do we offer in the UAE?
Our company offers several representative solutions for your business setup in the UAE:
Company type:
Company in a free zone
Short description:

A good solution for those who want to make business in the country, take advantage of the local tax regime, get the UAE residence and full control over own company.

Full foreign ownership:

Yes

Access to markets:

Local: an office or a store in the free zone, as for the rest of the country, you need a local partner.
Foreign: Free access to any foreign market.

Permitted business activities:

Defined by the rules of the free zone

Residence visa:

Yes

Bank account in the UAE:

Yes

UAE tax certificate:

Yes

Audit:

Depends on a free zone

License:

Yes
Company type:
Offshore company
Short description:

This type of company is often used in various business optimization solutions due to its minimal registration and low operating costs. It has a number of restrictions in the UAE

Full foreign ownership:

Yes

Access to markets:

Local: no.
Foreign: Free access to any foreign market.

Permitted business activities:

Any (with some exceptions)

Residence visa:

No

Bank account in the UAE:

Some of the banks

UAE tax certificate:

No

Audit:

No need

License:

No
Company type:
Company on the mainland
Short description:
If your goal is the domestic market of the UAE or GCC countries, this type of company is preferable, since it provides maximum opportunities for a regional presence.
Full foreign ownership:

No, not more than 49% of shares

Access to markets:

Local: all the Emirates, you can directly work with your customers in the country.
Foreign: Free access to any foreign market.

Permitted business activities:

Any, as per license

Residence visa:

Yes

Bank account in the UAE:

Yes

UAE tax certificate:

Yes

Audit:

Depends on the Emirate

License:

Yes
Here you can read about business in the UAE, its advantages and benefits.
Additional business setup services in Dubai
In addition to the above-mentioned business solutions, our company also offers the following services for individuals and corporate clients:
A branch is not a separate legal entity, but a part of another company (foreign or local). It may carry out only the approved activities of a parent company in its home jurisdiction. A branch cannot conduct business on its own behalf, but negotiates and concludes contracts on behalf of a parent company. As a rule, branches are opened for representative purposes – to study the market, establish contacts, sign agreements on cooperation, hold product presentations, etc. Our business setup consultants are ready to help you to open a branch in Dubai or any other Emirate of the UAE. This is a low-cost solution for regional coverage. In this article, you can learn more about setting up a branch in the UAE.
Compared with the majority of European banks, those in Dubai and other Emirates of the UAE stand out in terms of simplified reporting system, high quality of services and very competitive fees and loyalty to clients. Almost all banks in the UAE provide foreigners with the possibility of distant access through the Internet and telephone banking systems. Our experts will help you to choose the best bank here, and support you during the whole process of account opening from the very beginning to the very end.
Companies in Dubai and other Emirates enjoy local tax-free environment (except of VAT) – this is a solid fact, but still they are obliged to submit annual financial statements and provide audit report, and it is a compulsory requirement for almost all types of companies registered in free zones. Special knowledge and experience of qualified accountants is required to prepare these statements in accordance with all local requirements. Our company provides accounting and audit services for companies registered in Dubai, Sharjah, Ras Al Khaimah and other Emirates of the UAE.
Business setup in Dubai, opening an account in a local bank, and buying real estate in the UAE, applying for a residence visa... in order to go through any legal procedure, you have to collect and submit a package of documents. The UAE has not signed the Hague Convention; therefore, any documents issued by a foreign country must be legalized – this is a mandatory requirement for everyone in the country. Don't worry, with our PRO services this issue will be solved quickly and easily. We will complete all the necessary procedures for you.
Our extensive customer base and the wide network of partners enables us to choose the company in the UAE, which matches best to your criteria, or we can sell your existing business in the country. We have considerable experience in selling and buying various types of business – from small companies in the service sector to large media companies and large projects in the commercial real estate sector.
Easy Business Setup in Dubai with us
Thus, if you decide to open a company in the UAE, with our business setup consultants, the whole process goes in 6 simple steps. Here they are:
Contact us

. You contact our company in any way convenient for you and describe us your business project.

Choose the best jurisdiction

. Based on the provided information, we choose the best option in terms of prices, possibilities, infrastructure, and development prospectives.

Collect and submit documents for registration

. We help you to collect the required documents and hand them over to the Registrar in the UAE. After that, you can come to the country to sign the papers and get your license.

Rent an office

. Our consultants help you to choose the office, warehouse, or other premises for your company and issue a rental or purchase contract.

Open a bank account

. We help you to open a current account for your company in one of the local banks.

Get a visa

. Our consultants help to get a residence visa for you, your family members, and hired foreign employees.
With our support and consultations, the entire process of business registration in Dubai goes smoothly and quickly. Here you will find more information on how to set up a business in Dubai, UAE.
Accredited Business Consulting Company
We have direct contact with government services and authorities of free zones. Our company has the licenses required for professional consulting services; we are an accredited agent in the following free zones:
Get In Touch with Us Now
Perhaps, you have a specific request regarding setting up a business, moving to Dubai, UAE, opening an account with a local bank, or buying a real estate here. Feel free to contact our business setup experts and get detailed information on your question. Here are our contacts.
FAQs
Are there really no taxes in the UAE?
For the vast majority of businesses (except those operating in the oil and refining industries and banks), there are really no taxes here: no income taxes, no taxes on the withdrawal of capital, no import and export duties and other taxes common for those from Western countries. The only exception is a 5% VAT which applies not to all cases.
What type of company is the best one for a foreigner in the UAE?
There is no definite answer to this question. It depends on your interests, plans for future development, and budget. Due to some restrictions in free zones and on the mainland, it is very important to choose the right jurisdiction for your business setup at the very beginning so that you get access to the necessary infrastructure and markets, as well as opportunities for growth and expansion, and at an affordable price. Contact us; we know how to choose the best solution that will suit you.
Which free zone is the best one?
There are nearly 50 different jurisdictions in the UAE. Most of them are located in Dubai and Abu Dhabi, at least a couple of such zones is in each of the emirates. There are those intended to develop a certain business area, for example, Dubai Internet City is perfect for IT industries, while Dubai Media City is intended for the media, and those who work in the field of culture and arts.
Also, there are those without a certain specialization suitable for a wide range of businesses (trade, industry, services, etc.), for example, JAFZA and DMCC in Dubai. The best does not always mean the cheapest or the one with the best infrastructure; the best free zone is the one that would be perfect for you. Contact our business setup experts, and we will find the right free zone for your specific needs.
Can a non-resident of the UAE open an account with a local bank?
Yes, a foreigner can open a bank account in the UAE. The requirements differ in each bank, but in general, there is plenty to choose from. A foreigner without a UAE residence can open a savings account in one of the local banks. Residents have more opportunities; for example, they can get mortgages and private loans.
How to get a UAE residence?
There are three main ways to get a residence of the UAE:
Buy a residential property worth at least 1 million dirhams.
Create a company in a free zone or on the mainland (not offshore).
Get a legal job in one of the local companies.
How much does a license in Dubai cost?
Each company that is going to work in the UAE must obtain an appropriate license for the type of business it intends to conduct, or several if the company is multidisciplinary. The cost of a license depends on its type (commercial, service, industrial), and on specific jurisdiction. As a rule, this document is issued for a year with the possibility of renewal. The cost of such a document, in most cases, will be from AED 7,500 (freelancer) to about AED 50,000 (production), in some cases even more.
Why is it better to visit business setup consultants in Dubai in person?
When planning to set up a new business in Dubai, you must be 100% sure that your business advisory is reliable and professional. The best way to verify this is to come to his office in person. There you can easily check all the certificates and licenses, and make sure that you are dealing with a reliable partner. Besides, personal meetings are much more valued than any telephone conversation in the Arab business world. This is the feature of local business etiquette. If you want to run your business here, you have to get used to this fact.
What are corporate PRO services in UAE?
The UAE has not signed the Hague Convention, which abolishes the requirements for the legalization of foreign documents, so only legalized documents are recognized here. Accordingly, in order to establish a company, obtain a visa, apply for a bank account, your foreign documents must be legalized. PRO services are professional services for the legalization of these documents. Our company provides such services to its customers in order to simplify and expedite all bureaucratic procedures.
Is Dubai the best solution for business setup in UAE?
Dubai is the most popular region of the UAE among foreign investors, most free zones of various profiles are located here, Dubai has the largest resource market and lots of opportunities, but ... The term "best" in each particular case means something different; therefore, Dubai is not always the best solution for your business. Thus, for example, RAKEZ free zone provides cheaper solutions for registration and maintaining a business, and if this factor is more important to you, you make the better choice with the lower-cost RAKEZ free zone.
Which Emirate is the most comfortable for international business?
It is quite difficult to give a direct answer to this question. The fact is that each of them has some features. Dubai is the largest market and provides more opportunities than others. But, the entire local oil and gas refining industry is located in Abu Dhabi (read more about opening an oil or gas trading company here), as for the free zones of Ras Al Khaimah registration costs and business operating expenses are minimal there, so Dubai is not the best place for a foreign business in each and every case. This question is quite individual. If you are interested in opportunities for import/export to the country, you can read about it in detail here. The recommendations for organizing a logistics business in the UAE can be found here.
How much does it cost to setup a business in the UAE?
The total cost of starting a business in the UAE includes the cost of the registration process itself, the cost of obtaining a license, statutory capital, the cost of renting an office, and a number of additional minor expenses. In general, the easiest option is to work as a private entrepreneur freelancer. Such solution will cost about 10,000 dirhams (along with a virtual office rent). The cost of setting up a new company varies at a greater range, depending on the nature of your business, the chosen free zone, the required licenses, etc. Here you can read more about the costs of company opening in Dubai, the UAE.
What is the best business in UAE for beginner level entrepreneurs?
Trade is very popular in Dubai. There is a huge amount of solvent local residents here as well as tourists, and their number continues to grow from year to year. The cost of a trade license and the necessary investments are also relatively low. But at the same time, there is very strong competition in this area (up to 80% of all companies in free zones are engaged in trade), so you must offer something original or unique.
How can I start a business in Dubai with a small amount of money?
If you have a good idea for a business and a strong desire to grow and develop, but not enough money to set up a new company, you can go two ways. So, you can come to the UAE and get a freelancer visa here (it will cost a couple of thousand dollars a year, along with a virtual office), take on the local market, make some profit and start expanding. Or, alternatively, you can use one of the crowdfunding platforms to collect the initial funds that you do not have enough to run a full-fledged company. Here are some of these platforms: Zoomal, PiSlice, Eureeca.
Is online retail through social media or own my website legal in UAE?
A person needs a license to conduct any commercial activity in the country. Having such a document, you can legally sell the products indicated in this license, here in the UAE. If you are going to sell goods over the Internet (no matter how, either with your web-site or social networks, or any other way), you need an E-commerce license. Read more about starting an online business and getting an e-commerce license here.
How can a small foreign company open a branch in Dubai?
A company can open its branch either in one of the free zones or in the mainland of the UAE. However, the requirements may vary depending on the specific area. In order to choose the right jurisdiction and get the maximum effect from your branch, we recommend that you seek advice from our experts.