Registration Company in Dubai UAE, Dubai company incorporation.
"There is nothing longer than time as it is the measure of eternity, there is nothing shorter than it as there is always a lack of it for all our undertakings"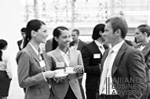 Working with the company Alliance Business Advisors you can concentrate on the core part of the business which brings you profits, whilst all organizational matters and issues of business set-up and administration will be handled for you by our professional business advisors while handling registration company in Dubai or any other Emirate in the UAE.
Our company with an office in Dubai specializes in provision of business advisory services for corporate and private clients. Within the scope of the UAE company registration, we deal with clients issues like business structuring, assets protection, tax optimization, residency permits in Dubai and other Emirates, property ownership rights protection and find solutions for virtually all other issues faced by our customers throughout the process of working in the UAE or the UAE company registration.
Our experts will help you to choose an appropriate type of company in the UAE, a structure of its ownership in the UAE and abroad, interrelationship between companies within a group, the right bank in Dubai or other Emirates and abroad for fast and efficient business operations as well as provide your company with full support for its day-to-day functioning in the UAE and abroad. This is what the definition of the UAE company registration includes.
Our longstanding experience and professional knowledge in business structuring as well as companies registration and administration in United Arab Emirates and other international jurisdictions allow us to state with self-confidence that we are providing our customers with the best solution with optimal costs, whereby such solution to the maximum possible extent meets the objectives set by our customers in the process of registration company in Dubai.
Shareholders of the company possess more than 25 years of joint experience in banking and financial sectors as well as in tax and business advisory in Austria and the UAE. The main approach of our company – Austrian quality and punctuality at all levels of execution of customer's tasks. Why us? Our long-term experience, professional knowledge and understanding of specifics of business in the Emirates, Western and Eastern Europe and comprehension of all business realities, which our customers might face in the process of Dubai company incorporation or any other jurisdictions, give our clients confidence and solid, reliable base for running the business, from administration point being supported by our company.
Our advisors speak English, German and Russian languages.
In order to get the initial advisory on corporate structure, Dubai company incorporation and administration as well as on matters of residency in Dubai and other Emirates, please send us your request.