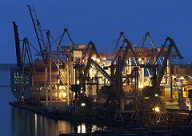 One of the leading ports operators DP World announced that project of Dubai Jebel Ali Port expansion passed the halfway mark and is going to be finished soon. The project includes expansion of the existing Terminal 2 and construction of the brand new USD 850 million-worth Terminal 3. DP World also mentioned that Jebel Ali Port expansion is crucial in supporting the growth of Dubai as well as Middle East and Africa countries.
In the first half of 2013 nearly 60 percent of construction works will be completed adding 1 million containers capacity through Terminal 2 expansion. The new, 4 million containers capacity, Terminal 3 is also to be completed by 2014. Due to this project Jebel Ali Port will reach equivalent of 19 million containers capacity in 2014.
"We are building to ensure that Dubai and Jebel Ali Port continue to efficiently meet the needs of the shipping lines and traders serving the region inhabited by two billion people. In order to enhance efficiency, the transport companies start increasing to use modern large mega-ships, and we stand ready to handle these giants of the sea, reinforcing Dubai's role as the centre of trade in the region," DP World's Chairman Sultan Ahmad Bin Sulayem said.
DP World reports that the new Terminal 3 will be one of the up-to-date marine terminals in the world, with a quay length of 1,860 metres, depth of 17 metres and 70 hectare storage yard. Whereas, the Terminal 2 quay will be expanded up to 3 kilometres, allowing the simultaneous handling of six 15,000 container mega-ships.
By completion of the whole project Jebel Ali Port will eventually become the only port in the region able to handle 10 of the next generation 18,000 container mega vessels at the same time.
In the first six months of 2012 Jebel Ali Port handled 6.6 million containers, 7.3 percent more than in the same period of 2011.